Finding a home improvement professional from friends, family, colleagues, or neighbors is easy and fast, but what if they don't know anyone? HomeAdvisor is a great alternative.
What is HomeAdvisor?
Formally known as ServiceMagic, HomeAdvisor is a contractor matching website that connects homeowners with home improvement professionals.
You can find a contractor on the website to help you with your home improvement projects such as plumbing repairs, foundation crack repair, carpentry, electrical work, vinyl siding installation, foundation crack repair, and even general projects such as tree trimming, housecleaning, and lawn care.
As a homeowner, you can easily find a local pre-screened home contractor, view the average project costs, and book an appointment with the contractor, all on the website.
You can also browse the website and search for professionals by their location or category.
The HomeAdvisor directory has reviews and ratings posted by users. If you are a contractor and listed on the website, homeowners can see reviews left by previous customers and decide if to work with you.
As a homeowner, you must wonder, can you trust HomeAdvisor reviews? Yes, you can, as the reviews are left by real customers that have worked with the contractor on HomeAdvisor.
How does HomeAdvisor work?
HomeAdvisor connects homeowners with home improvement technicians. Using the website, you can easily compare different contractors, read about other customer's experiences, request quotes, and many more things.
To use HomeAdvisor, visit the HomeAdvisor website or download the Android or iOS app.
On the home screen, you will see HomeAdvisor's ProFinder tool that takes you through a quick survey to help HomeAdvisor understand your project better and find the right contractor for your project.
How to find a home improvement professional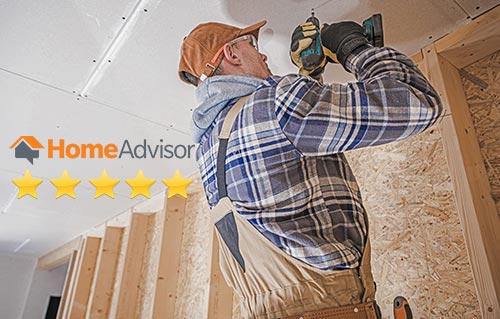 There are three ways you can find a professional for your project:
Using the HomeAdvisor's ProFinder tool
Here you fill in details about your project, then HomeAdvisor recommends the companies that provide the services you are requesting. When you go this route, you end up with 1-3 contractors you can contact.
Using the directory
You browse through nearby professionals and decide the ones you want to contact. Since you are the one choosing the contractors, you can contact as many as you want.
Searching for fixed-price services
If you are in a hurry or don't want to go through the contractor qualification process, this is the best option.
You pay HomeAdvisor an upfront fee, and HomeAdvisor does all the heavy lifting where it finds a qualified and verified technician to handle the task at hand.
While this method frees you up the most, you don't get to choose the contractor to work with, and you can't negotiate on the price.
Tips for using HomeAdvisor as a homeowner
Like any other software, to get the most from HomeAdvisor, you have to use it properly. To help you out, here are tips to follow:
When requesting for a service provider, be specific about the project you want to be done. Thankfully, HomeAdvisor guides you through the process.
If you worked with a contractor before, you could order their services again instead of vetting new contractors. All you need is to visit your Projects menu and see the contractor and order their services.
When HomeAdvisor recommends the contractors that fit your project, click on their name to learn more about them. Sometimes you can even find a money-saving coupon that sees you saving more.
HomeAdvisor Pros to a homeowner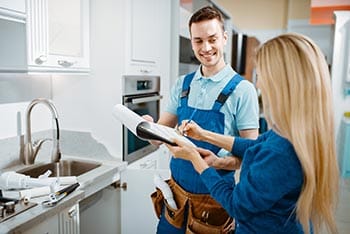 HomeAdvisor is an excellent place for homeowners to find contractors and comes with plenty of benefits that include:
It's free
Connecting with experts in your desired service, reading reviews, knowing more about a contractor, and using all the valuable HomeAdvisor tools is completely free.
You can connect with pros instantly.
If you are finding a professional during business hours, you can choose to be connected to qualified contractors immediately. This means you could talk to a qualified professional within minutes of beginning your search.
You can let HomeAdvisor do all the work.
If you have time or don't want to research, collect, and compare quotes yourself, you can leave the work to HomeAdvisor. HomeAdvisor will find a qualified professional to handle the task, and the fixed pricing guarantee will cover you.
HomeAdvisor Cons for a homeowner
While HomeAdvisor is such a valuable tool, it comes with its fair share of negatives that include:
You have limited search results.
When you use the ProFinder tool, it will match you to 1-3 professionals in your area. While you can see additional recommended contractors you can work with, it's still not the full list.
The directory is hard to find
As mentioned above, searching the directory gives you more contractors to contact. Unfortunately, it's difficult to find the directory, which is off-putting.
You receive plenty of spam mail.
Many homeowners have complained about receiving plenty of messages, emails, and even phone calls within a few days of signing up on HomeAdvisor.
Should you use HomeAdvisor for a homeowner?
If you have a project, you need to be done, HomeAdvisor is a great place to find a qualified contractor but take your time to filter properly, read through all the reviews, and be cautious of pushy contractors.
How to use HomeAdvisor as a contractor
If you are a contractor and want homeowners to find you through HomeAdvisor, sign up on the website and claim your profile.
To claim your profile, enter your business name or phone number. By claiming your profile, you confirm that the information displayed on HomeAdvisor is correct.
Claiming your profile also allows you to add more information that might attract more business your way.
If you are willing to spend money on lead generation to attract highly targeted prospects in your service area, use HomeAdvisor Pro.
While the platform is great, you have to pay a commission for every lead you receive. The cost of the leads varies depending on the project and location.
Thankfully, HomeAdvisor allows you to control your lead preferences, budget, and spend targets. You can also set the services you provide, your availability, and location preferences.
HomeAdvisor Pros for contractors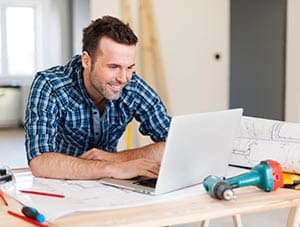 It's good for new business
If you are starting out and still don't have customers, HomeAdvisor is a great place to get your feet wet and set the ball rolling as the website allows you to reach customers you wouldn't have with your available funds and marketing abilities.
It works
One of the primary reasons HomeAdvisor is still in business (since 1999) is because it works. With more people searching for reputable service providers, you need a strong online presence to be visible. Thankfully, HomeAdvisor has a presence and is user friendly.
It's easy to manage
As a contractor, you don't want a complex platform, and HomeAdvisor knows this. HomeAdvisor has seriously leveraged technology and made its platform highly effective and easy to use.
From your dashboard, you can see your messages, pending projects, and any other necessary details. You can easily maneuver around the dashboard and make any changes even if you aren't a tech geek.
Contractors also can use review management software for contractors to manage their reviews on HomeAdvisor.
HomeAdvisor Cons for contractors
It can get expensive
Since you have to pay HomeAdvisor for every lead you get, the commission you pay can quickly get too expensive, especially if you are signed up for more expensive leads such as kitchen and bath remodel.
Remember, you pay for every lead, not every customer. So if you get a lead and don't convert it to a customer, you lose money.
You get bad leads
Every industry has customers shopping for the price with no interest in hiring a contractor, and they can land on your doorstep. And guess what, you pay for them!
While sometimes HomeAdvisor grants refunds for some bad leads (such as those that don't pick their phones), you still have to pay for some of them.
You have to give up some rights to your brand.
The HomeAdvisor terms of service clearly state that HomeAdvisor can use any information on your profile to direct links to their site. This means when you sign up, you give HomeAdvisor permission to use your name to promote their business.
The information includes your logo, uploaded pictures, and even your personal pictures.
It can be frustrating.
Can you imagine starting a business then getting a ton of bad leads that you have to pay for? When the business is new, you want to make money, but since HomeAdvisor is charging you while no customers are coming in, it can be frustrating.
It's also hard to brand and differentiate yourself from other contractors on HomeAdvisor, so the only competitive edge you have is the price.
Unfortunately, the more you lower your price, the more you eat on your profits. If that's not frustrating, I don't know what it is.
HomeAdvisor can create accounts on your behalf.
It has shocked many contractors to find their business profiles on online business directories that they didn't create.
You shouldn't be alarmed when this happens, as it's clearly explained in terms of service that HomeAdvisor has a right to create directory profiles using your logo and pictures and point the directories back to HomeAdvisor.
Fortunately, you can reduce this by creating your own online listings before signing up for HomeAdvisor.
Tips to getting the most from HomeAdvisor as a contractor
Call the leads immediately.
Most people choose the first person who calls, so call your leads immediately you get their message.
Get rid of services that aren't converting.
When you have been on the platform long enough, you will start seeing services that aren't bringing in leads or are bringing in bad leads.
Change your profile, so you stop getting these leads. This will cut your costs and the frustration of dealing with low-quality leads.
Sign up for small project leads
Leads for large projects such as kitchen remodeling are expensive, and with price shoppers all over, the leads can get too expensive too fast. To cut on this, sign up for cheaper projects ($20-$25).
This way, you can reach customers at a small fee then bank on return business. You should only sign up for the more expensive projects if you have an elaborate sales process.
Don't take up any recommended service.
As a service provider, you should know that HomeAdvisor doesn't just send you leads. It also builds and hosts websites, allows you to use their seal on your website, has a subscription service, collects payments from your customers, among many other things.
As much as these add-ons are attractive, you shouldn't embrace them because they are recommended as they come at an additional cost. Do your due diligence and find out whether the services add value to your business.
Ratings and Reviews on HomeAdvisor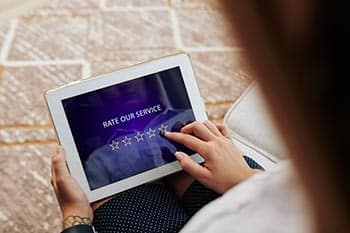 HomeAdvisor reviews help the website keep track of the quality of services provided by the contractors.
Like in other websites, reviews on HomeAdvisor are meant to help homeowners make informed decisions on the different contractors.
Whenever a homeowner completes a request with a service provider, they are asked to review the service provider. The review includes:
A star rating for the service you provided as a whole
Star ratings for the customer service, quality, and value for money
Optional comment with further details
Once the homeowner has left the review, it appears with the project the contractor worked on.  As a contractor, it's your responsibility to provide an excellent experience to your customers, so they leave a favorable review.
You also should regularly respond to both positive and negative reviews.
How does HomeAdvisor verify reviews?
As you are shopping for a contractor, the reviews you see on the contractor's profile are left by homeowners that have worked with the contractor before.
HomeAdvisor asks for reviews only from homeowners that have worked with the said contractor in the past, so you can trust the reviews. While this is the case, note that the homeowners' reviews aren't HomeAdvisor's opinions. The reviews reflect what homeowners feel about the contractor , not how HomeAdvisor feels about the contractor.
Besides reading the reviews, do your own research and ensure you are working with the right contractor. Remember, HomeAdvisor clearly says it isn't liable for any damage, loss, or injury resulting from using the website, so exercise caution even when dealing with a contractor with the most positive reviews.