As a contractor, Angie's List is an excellent place to find customers for your business. When you have many positive reviews, and your potential customers search for a service you provide, they will likely hire you as you appear higher on the results pages.
The many reviews also give the impression you are experienced and reputable, so you attract more business.
If you are a homeowner and looking for a contractor, Angie's List provides you with a platform where you can search for any contractor and even hire them directly on the platform at a discount.
How does Angie's List work?
Angie's List has free and paid membership plans. The green plan is free, the silver membership costs $24.99, and the Gold plan costs $99.99 per year. Of course, the more expensive your plan, the more features you have access to.
While this is the case, you should note that with the free plan, you have access to ratings, reviews, and business information, which is the most important information you need to make an informed decision about hiring a contractor.
Angie's List's sole purpose is to connect its members with the local businesses while providing valuable reviews and ratings to help the members make informed decisions when hiring contractors.
Once you have signed up and purchased your membership, you have access to the business directory.
Here you can see information about the companies in your area. Besides looking for companies by type or name, you can also sort and filter them based on their ratings, distance from you, and whether you can hire them.
It's up to you to compare the different companies and choose the one you feel is right for you.
When you find an ideal company and click on it, you can see plenty of information about it.
You can see how the company ranks in the different service categories, how many users have left reviews, and the number of unresolved disputes the company has had with users, and other valuable information.
After looking through the companies and comparing them, choose the one you feel will provide you with the services you are interested in.
To save money, head to the "Big Deals" section, where you get to hire a company at great discounts (sometimes even at 70% off!)
After working with a company, Angie's List gives you an opportunity to have your say by reviewing the company. You can rank the company from "A" (best) to "F" (worst) depending on the services they provided.
It's recommended you leave a thorough review. To do this, include as much information as possible.  Did the company do what you wanted it to do? Would you hire them again? Include all of this information in your review.
If you have a problem with the company, such as the company didn't do what you hired them to do or provided poor service, and you would like a refund, work with Angie's List representatives and the company to resolve the issue.
How do I get on Angie's List?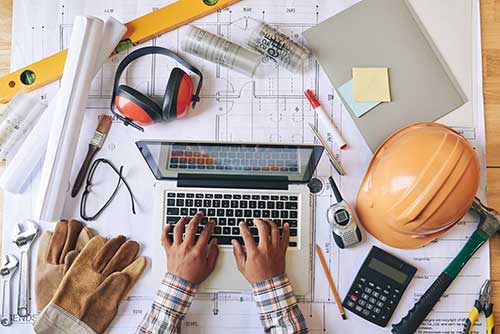 Before we get into details on how to get on Angie's List, you must understand why you should be there in the first place.
As one of the leading home repair review sites on the internet, receiving millions of visitors every month, it would be absurd to ignore Angie's List as a way to reach your potential customers.
As a contractor, getting on Angie's List is easy as all you need to do is create a business profile.
To create the profile, go to Angie's List website, click on "Business Owners," then click on "Get Started."
You will be directed to a form where you fill in your personal contact information, such as the business's geographic location and the services you provide.
After setting up the profile, homeowners can now see your business, work with you, and even leave a review.
Besides the platform providing you with a way to find customers, it also provides you with tools, insights, and a messaging system that allows you to promote your business and maintain effective communication with your customers.
How do I get reviews on Angie's List?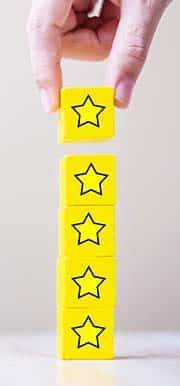 Like any other online review site, reviews are vital for your success on Angie's List.
And with over 97% of consumers saying they trust online reviews as much as recommendations from friends and relatives, you should get as many reviews on Angie's List as possible.
There are two ways you can do it: getting reviews from customers that have booked your services directly through Angie's List and those you have worked with outside the platform.
For the customers that have booked your services from Angie's List, you simply need to reach out to them and remind them to leave a review.
The best time to reach out to them is when they are still in a good mood from properly done work.
At this time, the clients are likely to leave a positive and thorough review as they can still remember even the little details about the project and how you executed it.
For the customers that you have worked with outside the platform, you can still get their reviews by directing them to your Angie's List profile.
As a good businessperson, you should keep the email addresses or phone numbers of your customers. If you have your customer's details, all you need to do is send them a quick message asking them to leave you a review on Angie's List.
The customers with an active Angie's List account won't have a problem leaving a review.
How reliable are Angie's List reviews?
With Angie's List reviews coming from paying members, you might have the impression they carry more weight and are more trustworthy, but this isn't always the case.
One of the popular case scenarios that show you can't trust Angie's List reviews is that of David Segal, a newspaper reporter, and columnist. In 2013, Segal documented how his review and dispute were expunged from a contractor's profile after receiving a refund or "solving" the issue.
Segal didn't like the work done by a contractor he had got from Angie's List, so he filed a dispute and left a negative review.
After some back and forth with the contractor, he finally got a refund, and the issue was termed as solved and the dispute lifted. The shocking thing is the contractor's profile didn't show the dispute, and the negative review was removed.
From this situation, you can tell that you can't trust the reviews on Angie's List. As a homeowner, you can't tell whether a contractor or business has had any documented and reported disputes in the past. This significantly reduces the platform's reliability as you can't tell the true nature of the contractor.
Although Angie's List works hard at maintaining transparency and legitimacy of the reviews by prohibiting anonymous reviews and only allowing reviews from paying members to contribute to the overall review score, several things plague the reviews' trustworthiness. These things include:
Advertising: Like yelp and other online review sites, Angie's List allows contractors to advertise on its platform. In fact, there is information that up to 70% of the platform's income comes from advertising.
This might not raise an eyebrow but think about it. Do you trust the company will act as a neutral third-party facilitator for unbiased reviews while relying on the contractors for its survival?
Contractors looking to advertise on Angie's List can pay to appear higher in the search results. If Angie's List includes both positive and negative reviews, it risks its profitability as the advertisers (local businesses/contractors) can pull away, especially when they receive many negative reviews.
Removal of negative reviews: From Segal's case, you can see the opaque review practices employed by Angie's List. After the contractor had "resolved" Segal's dispute, the original review was removed.
This means a company can be having plenty of disputes, but since the bad review was removed after the company had "resolved" the issue, you can't tell the business's true nature, which reduces the trustworthiness of Angie's List reviews.
Minimum rating: After "resolving" a dispute, Angie's List asks its users to re-review the business, but this time, you don't have full control of the review. This time you are limited to a minimum rating of a "B."
This rationale is misinformed as not all disputes are dealt with professionally, and both sides are satisfied.
From this, we can conclude that you can't trust Angie's List reviews. If Angie's List was hell-bent on creating transparency and giving its users a complete picture of the local businesses, it would keep all the reviews on record for everyone to see.
How do I get out of my Angie's List contract?
If you no longer want to be on Angie's List either to save money or are no longer seeing the perks of being there, you can always cancel your membership. The cool thing is there are plenty of ways to do it:
Cancel your membership on the site
Here you need to sign in to your Angie's List account, then go to the "Manage My Account" page and choose "Cancel Auto-Renew."
Cancel Angie's List via Email
You need to send an email to the support team at Angie's List requesting them to cancel your membership. To do it, go to the "support center" at the bottom of the main page and fill out the form that comes up when you choose "Membership Cancelation."
In the "What is the subject?" field, enter you want to cancel your membership or anything similar. You should then enter the details of your request and send the message. A customer service rep will respond to your request within 24 hours.
Cancel by mailing a letter
Are you still old school and love sending letters? You can send details of your identity and account in a letter and request your account's cancellation. Address your letter to:
Member Services
1030 East Washington Street, Indianapolis, IN 46202
Cancel Angie's List over the phone
If you have a Gold membership, you can cancel your membership via phone. All you need to do is write details about your Angie's List account, then call 1-888-828-5478 and request cancelation of your account. The phone line is available on weekdays from 8:30 am to 8:15 pm EST.
To prevent your account from renewing for another year, ensure you send your cancelation request by 5 pm ET on a workday before the renewal date.
You should note that when you cancel your paid membership, you lose access to certain features, but you will still be able to use the website. If you want to delete your account completely, contact customer service and ask them to delete the account.
 Is it worth advertising on Angie's List?
With millions of homeowners visiting Angie's List every month searching for qualified contractors, it would be unwise to ignore advertising on the platform.
It's worth noting that some contractors are crushing it with advertising on Angie's List while others are losing money and are in the blink of giving up.
The key to finding success with Angie's List advertising is to take your time and do it right. To help you out, here are tips to put into place:
Ask plenty of questions.
Before you load dollars into your account, get in touch with the sales team, and ask as many questions as possible. Great questions to ask include:
How many registered homeowners are in the region I'm targeting?
How many searches for businesses related to mine were done in the last one month, three months, and one year?
How many times has my profile been viewed in the last 30 days, 90 days, and one year without any
advertising?
How many other similar contractors are advertising in the target region?
It's also wise to ask for a test login to see how your business will appear in the search results compared to other companies.
If you like the numbers given to you and how your business looks, decide whether or not to advertise.
Negotiate
If you have done your research and found that advertising on Angie's List adds value to your business, ask the representatives how much it will cost you. The advertising costs vary depending on the industry, location, and membership.
In most cases, the sales representatives will give you a quotation, but this doesn't mean the amount is set in stone. If you have a budget, let them know the amount you are willing to spend and ask them whether they will take it.
If you aren't sure how much to spend, call your competition and ask them how much they are paying. While this is a super sneaky trick, it will save you a lot of money when done right.
Final thoughts
Like other online review sites, you need to have many positive reviews to show up high on Angie's List results pages. Thankfully, it's easy to get Angie's List reviews.
Get in touch with your current and past customers and ask them to leave a review. When you consistently do this and always deliver excellent services, it's a matter of time before you have hundreds of reviews and clients banging on your door seeking your services.